2015 All Pontiac Swap Meet
Posted: January 8, 2015
---
The GTOACO will be holding its annual swap meet in the same location it has been for the past several years, at Haydocy Automotive, 3985 West Broad St, Columbus, OH. The swap meet will be held on Sunday, March 22, 2015, with vendor set-up begining at 7 a.m. and general admission begining at 9 a.m. The cost for general admission will be $2.00 and $15.00 for a 10' by 10' vending space.
We know that for many of the car enthusists out there, this is the begining of the season, and we are happy that you choose to start your season with us, and we look forward to seeing some familiar faces, hopefully with some new ones as well.
For more information, see the event flyer below or click
here
.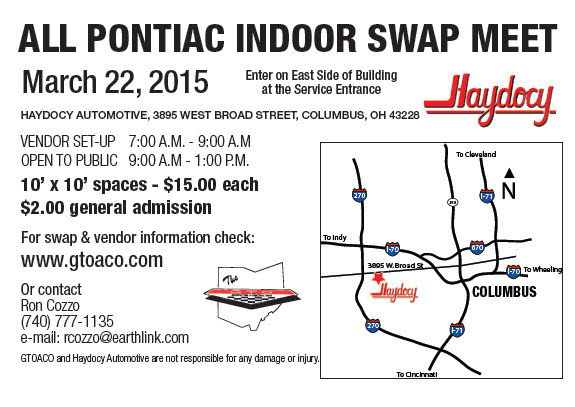 ---